Demo Alert KS-28TS | Mini Alarm Type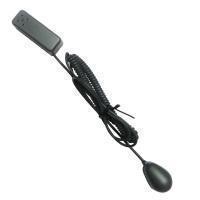 Demo Alert KS-28TS | Mini Alarm Type
Demo Alert alarm KS-28TS is a simple, effective and convenient anti-shoplifting device for protecting the merchandises during display. This allows for merchandise to be touched and experienced while keeping it secured. The operation enhancement results in increasing sales. It can be applied in many settings, such as retail stores, shopping malls, supermarket, etc.
Suitable for protecting electronics, mobile phones, cameras, computers, CD players, video games, etc. against theft during demonstration.
1 pc of lithium battery included.
Benefits:
Increase revenue and profit
Reduce theft
maximum on-shelf availability
(Mini Type)
Patent No. 155479
Specifications:
Operating voltage and current: 2V - 3V DC
Siren tone: Bi-tone, etc.
Siren output: 88 +/- 3dB (at 1 ft)
Standby current consumption: 1.0uA (typical)
Activation current consumption: 28mA (typical)
Stand-by battery life (built-in): Over 1 year
Color: Gray
Size(mm): 39(L) x 15(W) x 12(H)
Packing:

20pcs/tray; 400pcs/ctn.
N.W/G.W/MEST: 6Kgs/7Kgs/1.0'
****If there are any OEM designs/specifications you would like to develop for this product, please feel free to contact us.
---
Related Products:
Anti-Shoplifting Device (Main Unit)
Order Information:
Minimum Order: Negotiable
OEM/ODM Product, Buyer's Label Offered