KS-552 Wireless Burglar Security Alarm System | WIFI+GSM+PSTN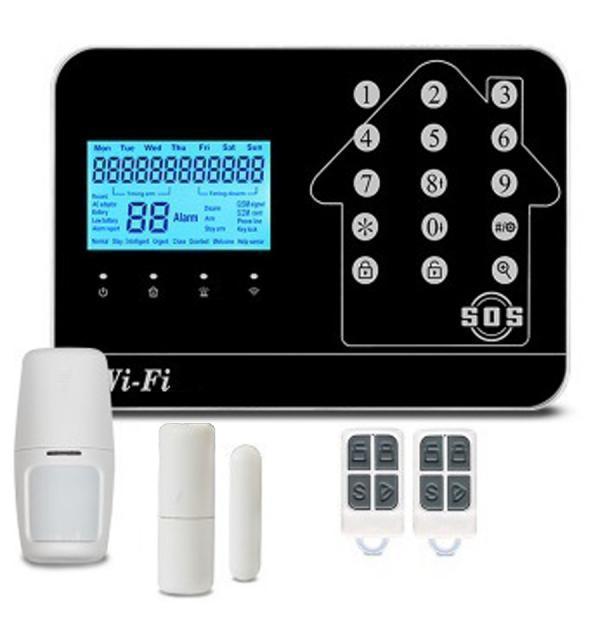 KS-552 Wireless Burglar Security Alarm System | WIFI+GSM+PSTN
Product ID: KS-552
KS-552 Wireless Burglar Security Alarm System has implanted the most advanced and popular WiFi technology into traditional GSM+PSTN alarm system technology. It's very convenient for users to set up the alarm system via APP.
This system features large LED screen, touch keypad, built-in Ni-Hi rechargeable battery and intelligent voice instruction. This burglar securtiy alarm system can integrate with door/window contact, PIR motion sensor and siren. This system allow up to 99 wireless zones and 4 wired zones. Users can use wireless remote controller to control the system when you leave and come back to home. Emergency alarm can be triggered by press the SOS button immediately.
This security alarm system has elegant design and it is suitable for homes and office use.
Specifications:
Power Supply: DC9V-12V
Built-in Battery: NI-HI AAA*6 DC7.2V
Standby Current: <25mA
Alarm Current: <450mA
Wireless frequency: 433MHz
Encoding: 1527/2264
GSM Operating Frequency: 850/900/1800/1900MHz
Casing Materials: ABS
Operating Conditions Temperature: -10℃~ +55℃
Relative Humidity: ≤95%RH(No condensation)
Siren loudness: 110db (External siren)
Unit size: 18*12.5*3.5cm
Features:
Multiple Languages available
Can be controlled with APP
Reliable wireless connection
Wifi/GSM/PSTN Multi-network
Easy Integration with appliances
Extended battery life
Bi-directional 433MHz radio range
99 zones; Flexible control & setup
Low battery alert
Suitable for homes, office, etc.
Built-in battery
LCD screen
****If there are any OEM designs/specifications you would like to develop for this product, please feel free to contact us.
---
Related Products:
KS-551 Wireless Burglar Security Alarm System | GSM+PSTN