Indoor Siren KS-93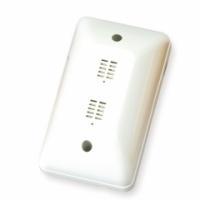 Indoor Siren KS-93
Indoor Siren KS-93 has a camouflage design to conceal from public while fitting for the environment in a well-designed modern casing. This sounder is convenient for indicating emergency at entrance, indoor, or outdoor for any security system.
High decibel.
Camouflage design to disguise the alarm from unsuspecting intruders and/or fit into the surroundings.
Bright LED strobe.
Consumes little power.
Modern, polycarbonate housing.