LD-85U Indoor Sounder Beacon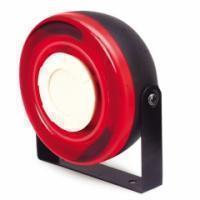 LD-85U Indoor Sounder Beacon
LD-85U Indoor Sounder Beacon is convenient for indicating emergency and fire. This sounder with strobe can be used as a standalone device or integrated into any security system for visual and audible warning. It Has a U-shaped stand with screwholes for fixing onto wall, ceiling, equipment, device or tranportation. Siren can be turned to change the direction of the audibility and visual.
This combined sounder beacon can be used for many different application such as deterring intruder, indicating emergency, and alerting danger. For the hearing impaired individuals, our pioneering strobe design allows for maximum coverage, dispersing light to all angles. This ensures that you will use the minimal number of device to achieve the maximum performance.
This alarm is suitable for both indoor and outdoor use.
High decibel
Camouflage design to disguise the alarm from unsuspecting intruders
Bright LED strobe.
Consumes little power.
Modern, polycarbonate housing.
Adjustable stand to easily rotate and change sound direction
Order Information:
Minimum Order: Negotiable
OEM/ODM Product, Buyer's Label Offered