Fire Alarm KS-F79P | Panel Type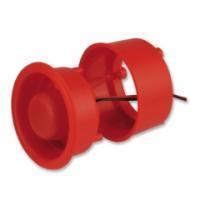 Fire Alarm KS-F79P | Panel Type
Fire Alarm KS-F79P is loud siren to promptly notify building occupants of fire hazards. The front and rear parts of this fire sounder can be fixed on to the panel of fire alarm system.
Suitable for integrating onto fire alarm panel or walls.
Loud sound output
Sturdy and durable casing
Various voltage input to choose from
Various tones to choose from
Specifications:
Input: 24VDC (12-30V DC)
Sound output: Over 96dB (at 1M)
100dB (Nominal)
Tone: Bell sound, sweep, siren, emergency whistle
Operating Current: 22mA (Bell only)
50mA (with strobe)
Color: Red
*****We also welcome new designs and specifications you would like to develop for this product, please feel free to contact us.
---
Related Products:
Caved-in Celing Mount Electronic Fire Bell with Strobe
Order Information:
Minimum Order: Negotiable
OEM/ODM Product, Buyer's Label Offered