EN54 Optical Beam Smoke Alarm Detector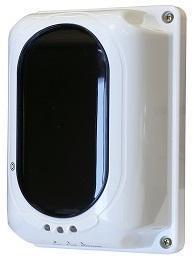 This advanced reflective beam smoke detector is ideal for large areas and tall buildings where traditional sensor could not work properly. The linear IR infrared laser device is equipped with algorithmic processors that detect early signs of smoke to prevent fire outbreak. Easy to use and adjust beam sensor & monitoring range.
Drift compensation
Wide reflectance angle
3 levels of beam sensitivity
4 selectable ranges for monitoring.
Interface & relay for Fire & Control Centre
Self-diagnosis Monitoring for faults
Designed to meet EN54-12
IP66 Waterproof type available
User friendly – Easy to install and configure
Modern and low profile design.
Ideal for heritage sites, hazardous areas & high ceiling
Specifications:
Voltage: 20-28V DC
Operating Current: 33mA (Alarm), 56mA (Standby)
Beam sensor sensitivity 2.6 to 5.8dB (High to low)
Beam Length: 8-100 meter distance
For any product inquiry or development project, please contact one of our specialists at Key Security Taiwan for more information.