SA-01 Site Alarm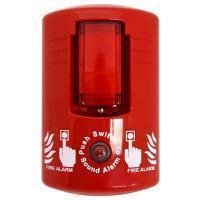 SA-01 Site Alarm
SA-01 Site Alarm is suitable for connection up to 20 units. Formed with simplicity and reliability in mind, this product is designed to be lightweight, yet sturdy enough to withstand the element. Upon activation, sounder beacon alert others of emergency. The loud sound and bright strobe make it noticeable from far away. Battery-operated unit makes it easy to set up this fire alarm anywhere at the site. The site alarm checks itself periodically for battery consumption and will flash to warn site occupants of low battery.
Full battery power - in the main power supply requirements
Reliable, simple and tough quality
High brightness LED strobe visual warning - noisy areas and DDA compliant
2-wire connection up to 20 units, forming a linkage alarm system.
Automatic battery test.

Illuminated call point switch
Compact size - ideal fire points
Active light switch for indicating emergency and warning
Suitable for large construction, campgrounds, temporary accommodation, marquees, indoor and outdoor area.
Specifications:
Voltage: 9V
Sound output: 105+/- 5 dB (at 1 ft.)
Tone: Bell, sweep, siren, whistle, etc.
Color: Red or other
---
Related Products:
Fire Alarm with Strobe (Panel Type)
Order Information:
Minimum Order: Negotiable
OEM/ODM Product, Buyer's Label Offered