KS-68PS Senior Care Alarm with Strobe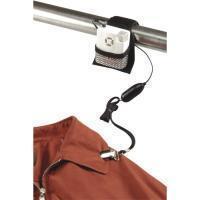 KS-68PS Senior Care Alarm with Strobe
KS-68PS Senior Care Alarm with Strobe is simple and can be used for retirement communities, hospital, and family homes. The alarm can be clipped onto the person's clothing for continuous monitoring of fall management.
If the patient or senior person falls, the magnet switch on the clip will separate and activate the alarm.
The alarm contains a deactivator after the alarm is triggered. This replaces the need of an on/off switch and eliminates the risk of forgetting to turn it on.
Always on for resident safety
Can be used as personal alarm
sturdy casing
low battery indicator
Bright strobe to alert others nearby and quick identify the patient in need
Specifications:
Sound Output: 80 dB
Tone: Gentle Bi-tone
Color: White
Battery: AAA x 2
Order Information:
Minimum Order: Negotiable
OEM/ODM Product, Buyer's Label Offered